8 Jan 2018 - 28 Feb 2018 - 09:00 to 18:00
To Be Decided, , Dublin, Ireland
Cost: € 1200, Early Bird €1100
Postponed!! Due to a lack of suitable venues, we have been forced to postpone this workshop to Jan-Feb. It will be a 5-day workshop, starting on a saturday and running until wednesday. If anyone has a recommendation to make for venues, please get in touch with us on Info@living-yoga.ie.

Bookings: Info@living-yoga.ie
Yoga nidra is a transformative state of deep relaxation and one of the fastest-growing yoga  practices in the world today. Though its roots lay in thousands of years of philosophies and practices, iRest ('integrative restoration') Yoga Nidra carefully and purposefully applies them to our modern-day outlooks and needs. The practice encompasses the teachings of mindfulness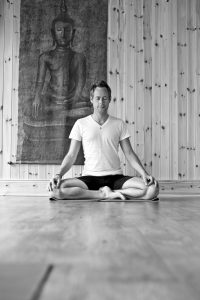 and then goes beyond, into the experience of dissolving one's self – of being completely absorbed in the experience of yoga (meaning to feel interconnected and whole). iRest Yoga Nidra enables you to explore deep movements of meditation and skillfully enquire in to the structures of your self, which can ultimately lead to profound insight and healing.
iRest Yoga Nidra was created by Richard Miller, PhD, a clinical psychologist, author, researcher, yogic scholar and founder of the Integrative Restoration Institute (IRI). It is a unique yoga nidra practice in that it has been substantiated by extensive and continuing research proving it can resolve trauma, pain, chemical dependency and stress, and increase general well being. As a result, iRest Yoga Nidra is applied in settings not previously open to traditional yoga practices, such as in military and healthcare organizations, and is used globally by doctors, nurses, massage therapists, alternative therapists, psychoanalysts and psychologists.
This training programme will not only guide you effortlessly into your own practice of iRest Yoga Nidra but also enable you to understand the process, through exploring research-based material around the sense of self, separation and the ego-I.
The programme only came to Europe in 2014 and this will be the first time it has been offered in Ireland, so this is your opportunity to be among the first to offer this teaching here and join a thriving community of iRest Yoga Nidra teachers around the world.
What Makes iRest Different from other Yoga Nidra Practices?
Secular approach using modern language and terms, making it easily accessible and open to all audiences
Does not impose specific imagery or other suggestions that may be inappropriate/ineffective for the practitioner
The practitioner develops an 'inner resource' allowing them to anchor themselves and return to a safe place at any point during the practice
Instructors are trained in how to attend to emotional abreactions that may re-trigger trauma or shut down healing
Individual members of a group are encouraged to choose how they want to participate (i.e. the emotions they want to work with, or imagery that is relevant/has meaning for them), rather than the same, uniform instructions being applied to everyone in the group
Focus on welcoming all emotions as they arise and accepting life as it is, rather than avoiding or escaping situations through 'forced' relaxation
iRest has been used in military settings since 2006; all the research on yoga nidra in military settings to date has been done using the iRest protocol
Course Content
Level 1 iRest Yoga Nidra training is a five-day intensive course comprising theory, practice and discussion, suitable for anyone interested in deepening their own practice or working with yoga nidra in a yogic or therapeutic setting. It will provides you with the basic principles, history, theory, practice and delivery of iRest and allow you to incorporate the simple 10-step iRest protocol into your personal life, professional teaching or clinical practice.
The course will provide an understanding of:
The historical context and path of meditation in which iRest is embedded
The Eastern and Western psycho-spiritual perspectives that form the path of meditation and iRest
The evidence-based research showing the efficacy of iRest and its use with different psycho-physical issues and populations
iRest within the context of meditation
The teacher-student relationship, teaching issues and ethical considerations
The Ten Steps of iRest
How to use iRest for your personal practice
How to teach iRest to groups and individuals
The training provides the opportunity to participate in group lectures and peer discussion groups, and to receive and participate in multiple iRest experiential group and one-on-one practice sessions
Achievement
Level 1 is the first of a three-stage certification process. On completion of this level you will be able to teach iRest Yoga Nidra within your yoga class or other setting and will be provided with scripts and other support resources to enable you to do this.  Ultimately you will feel empowered to give the material your own voice. By the end of the Level 1 training you will:
have learnt how to deliver this powerful technique to individuals as well as groups
understand how to adapt and personalise the practice
feel confident to begin teaching straight away
have the credibility to walk in to professional organizations/healthcare settings having trained in a research-based protocol
Be able to begin the iRest Yoga Nidra certification process
Level 2: Advanced iRest Training 
Level 2 iRest Yoga Nidra training is a four-day intensive course designed to provide you with a deeper understanding of the principles underlying the theory, practice and delivery of iRest Yoga Nidra so that you can hone your delivery of iRest to groups and individuals in public and professional settings. You will:
Receive advanced training in teaching iRest to groups and individuals
Participate in advanced group lectures and peer discussion groups
Understand the teacher-student relationship, teaching issues and ethical considerations
Receive advanced iRest experiential group and one-on-one practice sessions
Enhance your understanding of the historical context and the path of meditation in which iRest is embedded.
Learn Eastern and Western psycho-spiritual views that inform iRest and the path of meditation
Learn about evidence-based research showing the efficacy of iRest with different populations
Deepen your personal practice of iRest
Completing the Certification Process
This can begin any time after you have completed your Level 1 training. You will be assigned a Supervisor (who you will typically interact with via Skype) and required to submit recordings of yourself delivering iRest to groups and individuals. You will also be asked to keep a journal of your personal practice of iRest and teaching experiences with groups and individuals, prepare brief book reports on readings chosen from the iRest Certification Reading List and take a written exam. You will also be required to attend a minimum of two authorized IRI retreats and prepare written reports on both. For full details regarding the certification process and retreats please refer to the IRI website.
About the Teacher
James Reeves, founder of Restful Being and Director of Europe for the Integrative Restoration Institute, is one of the UK's leading yoga nidra experts. James specializes in iRest Yoga Nidra having studied extensively with the protocol's founder, Richard C. Miller, PhD. James was responsible for bringing iRest Yoga Nidra teacher training to Europe in 2014. He has been a practising yoga teacher since 2005 and qualified as a Structural Yoga Therapist after completing his training with Mukunda Stiles in 2006. From his clinic in Oxford James works with clients who are recovering from birth trauma, PTSD, sexual abuse and depression, for example, as well as injury and other physical ailments – and even pre award ceremony nerves at the Oscars for one of his more high-profile clients. He teaches yoga nidra at triyoga London and regularly guest-teaches elsewhere such as at the Khiron House trauma centre as well as within corporate settings and yoga studios across Europe. James also runs his own regular yoga classes, workshops and retreats all focused on helping us to live the essence of our true nature: welcoming, open, spacious and free from judgment and conditioning.
Testimonials
"James took me on a journey where I was able to uncover parts of myself I hadn't even been aware of and the change in my thought patterns and behaviour and the way I see myself since returning home has been huge."
— Natalie Edwards, Coach & Mentor
"I have come away from this training deeply resourced and with a grounded sense of knowledge and confidence of how to share this transformative practice with others."
— Jahna Clark, Yoga Teacher & Somatics Exercise Coach