8 Feb 2019 - 10 Feb 2019 - 09:00 to 17:00
Ciudad de la Raqueta, Madrid, Calle Monasterio de El Paular nº 2, Madrid
Our physical and energetic centre of gravity lies deep within us. In the Yoga tradition, this primordial place is known as the Hara. It acts like the hub of a wheel facilitating movement in all directions, while providing a stable base to move from. The connection from the core of the body outwards, and from the periphery inwards is at the heart of every Yoga posture, forming the basis for integrated movement, instinctive alignment, and freely radiating breath and Prana throughout the body.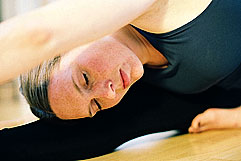 This workshop will explore our relationship to our inner GPS and how to integrate our spine, our limbs and ourselves to this central hub. We will examine what happens when we learn to establish a strong yet mobile core, and how the breath is the key to creating this. As we connect to our centre in a new way, we can experience ourselves being moved from the inside out with lightness and ease. Asana practice begins to evolve effortlessly, and even complex movements are instinctively understood and mastered. Beyond the physical practice, we will explore how working with the Hara allows us align ourselves with our higher purpose or Dharma.
During the workshop, we will explore the art of Vinyasa as a moving meditation, Asana and posture work, breathwork, somatic or guided self-enquiry, intero-reception (our awareness of subtle, body based feelings or the 'body-fulness' of our experience), and restorative Yoga. There will also be short lectures to clarify the teaching and learning and to address your questions.
Working with the Hara is what Donna Farhi calls 'radiating'. It is the second of her 'Seven Moving Principals' as outlined in her book Yoga Mind Body and Spirit.
This workshop is open to all students with over one year of yoga practice. Bring a curious mind and a smiling heart.
Suggested background reading for this workshop
Please read the section on 'Radiate', pages 38-41, and the section on 'The Fluid System', pages 61-64 from Yoga Mind Body and Spirit by Donna Farhi